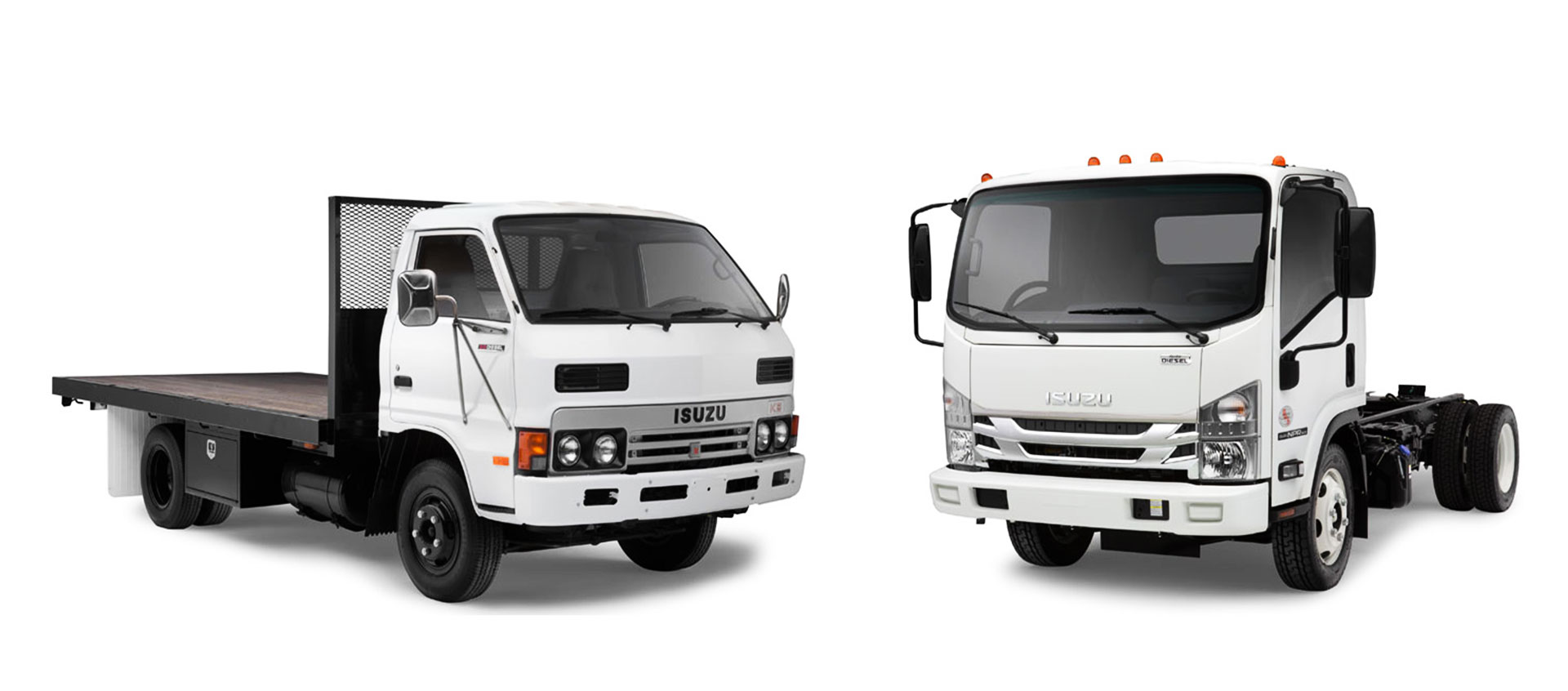 History
Milestones Have Been Made, History Has Been Recorded, We're Not Stopping Now
Our roots go back to 1916 in Japan. That is when Tokyo Ishikawajima Shipbuilding and Engineering Co., Ltd. and Tokyo Gas and Electric Industrial Co. initiated plans for automobile production. Three years later in 1919, Japan's first truck was built. That was the beginning of a series of industry firsts that continues today.
In the U.S., the very first Isuzu truck arrived at the Port of Jacksonville, Florida on November 10, 1984. This was the KS22 truck with an 87-hp naturally aspirated diesel engine mated to a manual transmission. The Isuzu low cab forward design introduced U.S. business owners to a smarter way to work with trucks that are maneuverable, offer a low cost of ownership and deliver remarkable durability. After two short years, Isuzu trucks became the best-selling low cab forward trucks in America - an accolade that still holds true today.
Since 1984, over 500,000 Isuzu trucks have been delivered in North America. Our products have come a long way since the KS22, and we continue to build and innovate as our predecessors have. You'll find the quality, durability and innovation that can only come from a century of expertise in every Isuzu truck, and we're not finished!
2018
Isuzu teams ups with Supreme Corporation to provide solutions for Ewing Irrigation & Landscape Supply - All-new Class 6 Isuzu FTR and customized Supreme bodies update fleet of nation's largest family-owned supplier of landscape and water management products
Isuzu breaks sales records, again - Sales of Isuzu-brand trucks and Isuzu parts reach all-time high in 2017
Isuzu announces 2018 and 2019 model lineup - production plans include new NRR Crew Cab
Isuzu displays Electric Truck at NTEA Truck Show
Nordresa converts N-Series Diesel Truck to electric to be eligible for Quebec's Ecocamionnage program -The first converted truck sold to a Montreal-based moving company
Isuzu FTR named "Medium-Duty Truck of the Year" by Work Truck Magazine
Isuzu and Spartan Motors celebrate production of the 50,000th N-Series Gasoline Truck
2017
F-Series Production begins in Charlotte, MI
B10 durability rating of Isuzu 4HK1-TC engine increased to 375,000 miles
Isuzu announces production of 40,000th N-Series Gasoline Truck - Charlotte, Michigan production milestone comes just one year after 30,000th gasoline-powered, Low Cab Forward Truck is assembled
U.S. Isuzu technicians place 2nd at World Technical Competition in Fujisawa, Japan
2016
Isuzu celebrates record-breaking 2015 - Sales of N-Series trucks and Isuzu parts reach all-time highs
Isuzu unveils all new Class 6 F-Series Truck - 2018 FTR Mates 25,950-Pound GVWR to Efficient Four-Cylinder Engine
Spartan Motors expands contract assembly for Isuzu with new F-Series Truck - Company to build dedicated 85,000 square-foot plant in Charlotte, Michigan
Shaun Skinner named new President of Isuzu Commercial Truck of America
Isuzu and Spartan Motors celebrate production of the 30,000th N-Series Gasoline Truck
Isuzu opens world-class Center of Excellence Training and Technical Assistance Facility in Northeast Pennsylvania
2015
XL Hybrids' XL3 Hybrid Electric Powertrain Technology Now Available For the Reach™ Commercial Van from Isuzu and Utilimaster
20,000th Isuzu N-Series Gasoline Truck Rolls off the Line at Spartan Motors
Isuzu announces start of production for 2015 and 2016 diesel models - New 2016 models meet greenhouse gas emissions regulations a full calendar year early, offer better fuel economy, upgraded interiors and new styling
Reading Truck Body announces introduction of NPR ECO-MAX with Tool-Pro Body.
Isuzu delivers the 500,000 Isuzu-built truck in North America - Milestone Unit Sold to Farmers Home Furniture in Dublin, Georgia
Isuzu introduces 2016 13,000-lb. GVWR NPR Diesel
2000 - 2014
2014: Isuzu truck's 30th anniversary in the U.S.
2013: Isuzu N-Series named "Medium-Duty Truck of the Year" by Work Truck magazine
2012: Isuzu Reach named "Medium-Duty Truck of the Year" by Work Truck magazine
2011: Introduction of the Reach — the revolutionary walk-in van powered by Isuzu; began production in Wakarusa, Indiana
2011: Isuzu N-Series Gas production begins in Charlotte, Michigan
2010: Isuzu N-Series — First medium-duty LCF trucks to be EPA 2010 and CARB HD-OBD compliant, and 50-state clean-idle certified
2005: 50,000th gasoline-powered N/W-Series truck assembled in Janesville, Wisconsin
2002: Cumulative U.S. sales of Isuzu trucks exceeds 275,000 units
1950 - 1999
1994: First American-built gasoline-powered NPR-EFI assembled in Janesville, Wisconsin
1986: R.L. Polk certifies Isuzu trucks as the best-selling import commercial truck in the United States — a position Isuzu trucks have held ever since
1984: Isuzu trucks enter the U.S. market with the KS22 truck
1959: First 2-ton light-duty low cab forward truck in the world — the predecessor of today's N-Series trucks
1955: Isuzu diesel engines and snow tractors are put into service at Japan's Antarctic Observation Base (and are still used today)
1900 - 1949
1936: First air-cooled diesel engine built in Japan by Isuzu Motors Limited
1919: First truck in Japan built by the predecessors of Isuzu Motors Limited